Beginner Guide How to Make Money with Adult websites?
Some Interesting stats:
1. There are close to 24 billion porn sites
2. The online porn industry makes over $3,000 per second, and each second nearly 28,000 people are watching porn on the Internet
3. One in three porn viewers is a woman
4. Eight per cent of all email is pornographic
5. Thirty-five per cent of all Internet download is porn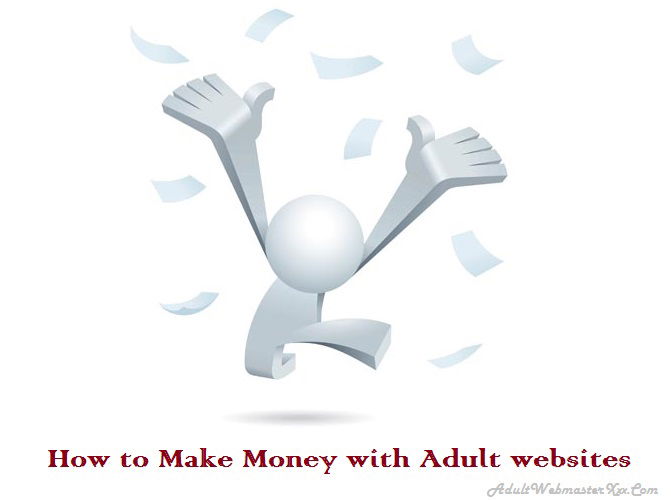 With such a huge market any website with good content can make a lot of profit. Like any other type of website or blog, with Adult websites & blogs you can earn money via following ways:
1. By providing premium services:
Millions of dollars are spent by people all over the world to watch & download adult contents. In premium services you can ask visitors to register and charge money to view or download contents. Visitors can also be asked to upload their own contents if you don't want to buy. In such case you need not to produce your own content or buy content from adult content providers. You can deliver contents on email or through other social sharing applications also to boost your services.
2. By providing an interactive platform:
Such services can also include a platform such as text, audio & video chat rooms, where people can signup to interact with each other. The signup can be kept paid. People like to watch live & real time contents more than recorded contents.
3. By Adult ads publisher Networks:
Most of the webmasters earn money via ads publisher networks. There are big names in the industry such as Google Adsense & Yahoo ads who pay pretty good and are on top in case of reliability. However, such ad agencies does not allow sites with adult contents. But, there are ad agencies which are specific to websites having adult contents.
Finding Best Adult ads networks- Payment Gateways :  Paxum
Ero-advertising
Exoclick 
Plugrush
Juicyads
These publisher networks are 100% reliable and pay good amount of money which is comparable to Google Adsense & Yahoo Ads programs.
To generate profit out of any type of website which provides contents, using publisher network is one of the best options. You provide contents to your visitors free of cost, display ads on your websites, user clicks your ads and you get paid. The concept of free services is at boom at present. The idea of getting free services or contents attracts more visitors on web. So, you can monetize your traffic through ads being displayed on your website.
4. By Direct Advertisement:
If you have a good amount of traffic on your adult websites and don't want to use any Ads Publisher network, then you can provide ad space on your website direct to other business websites. Businesses related to adult themes such as sex toys, medicine, dating sites, travelling firms, hotels, etc. can buy your adspace directly. However, managing direct clients becomes cumbersome until you have reliable clients.
5. By Affiliate Marketing:
Revenue Share (REV) or Pay Per Signup (PPS) or Pay Per Sale (PPS) or Cost Per Action (CPA). Apart from direct & indirect advertisement programs, affiliate programs are also good option to monetize your website. You can join some affiliate program, put an ad on your website, and for each signup through your link you will get paid. Now, the question is how much you will get paid for a single signup? The only answer to this question is: It depends. It depends on the sponsor, on the content, on the pay site and so many other things. Some sites may pay you $30 for someone buying a $1 trial membership. Why would they do that? Because usually they are able to cross sell, upsell or rebill the hell out of the user. On the other hand, if people don't rebill and you had the revenue share option, you just made a whopping 60 cent instead of $30. Given that the revenue share was 60/40. Usually they pay you 60% of the initial month and 40% of every recurring. Or some other split. Some of the good options are –
I can recommend Crakrevenue, Awempire, and Top Adult Affiliate Programs. Those are big established programs that pay good and on-time. 
Dating and Live Cam Sponsor's :  Chaturbate, Webcams, BongaCash which Paying highest.

New adult website? Where the traffic will come from?
You would definitely want to make sure that you get both traffic and money from the beginning, one of the best ways to do that is to sign-up with traffic exchange programs provided by websites such as Plugrush and JuicyAds. What you have to do is just add your site to both Plugrush and JuicyAds. After that you create a widget with Plugrush. Place that on your blog. Every time a visitor clicks on it, you get anywhere from 400-900 clicks in return. Don't click the widgets yourself coz it is easily traceable!
Same goes for the mobile redirection script from PlugRush and JuicyAds. If you want to try out an alternative program, I can strongly recommend trying out ExoClick – different programs works for different people so do try it out!
Want more traffic? – also Sell your Traffic


Buy Targeted Cheap Traffic-
Plugrush.com  Trafficshop.com  Avatraffic.com  trafficholder.com 
Now we established that you can get traffic by trading it via plugrush and organic traffic builds over time. Btw you can speed the indexation of your site up by submitting your site to Google here: www.google.com/webmasters/tools/submit-url or you can try and get a link from an established site that's being crawled by search engine spiders.
Another way to get traffic is to trade links, a good place to do this is to head over to www.linkspun.com, create a user, add your site and start looking for trades. Remember; it's always best to do niche to niche trades. And take some time to check out the site, you don't want to trade with people who have crappy sites with a ton of outgoing links. These are known as linkfarms and can be bad for your search engine position.
You can also submit your sites to directories. This will give you (most of the time anyway) an immediate boost in traffic, but you need to remember that you are giving away links too when you do this.